Who we are
The Chronic Care Center is a medico-social institution, specialized in the treatment and follow-up of childhood chronic diseases: Thalassemia and Type I Diabetes.
Located in Brasilia Street, Baabda Lebanon, on a green hill overlooking the Capital Beirut, the Chronic Care Center welcomes and insures the medical treatment of young thalassemic and diabetic children from all Lebanese regions.
In a modern and pleasant surrounding, the Center provides young patients with leading medical care and regular education under the supervision of clinicians and paramedical team.
> Go to contact page to view map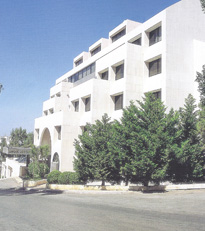 4th floor
.MANAGEMENT
.CONFERENCE ROOM
3rd floor
DIABETICS DEPARTEMENT
.SPECIALIZED CLINICS
.EDUCATION ROOMS
.DENTIST
.OPHTALMOLOGIST
.DIETITIAN
.NURSE EDUCATOR
.PSYCHOLOGIST
.ENDOCRINOLOGIST
2nd floor
.GENETIC RESEARCH LABORATORY
.PREVENTION UNIT
.SOCIAL SERVICE
.LIBRARY
1st floor
THALASSEMIA DEPARTMENT
.CLINICS
.TRANSFUSION UNIT
.LABORATORY & BLOOD BANK
.HEMATOLOGIST
.CARDIOLOGIST
.NURSE
Ground floor
.MANAGEMENT
.ADMINISTRATION
.PHARMACY
.CASHIER
1st basement
.AUDITORIUM
.CAFETERIA
.GIFT CORNER